What Does a Canvas Print Look Like?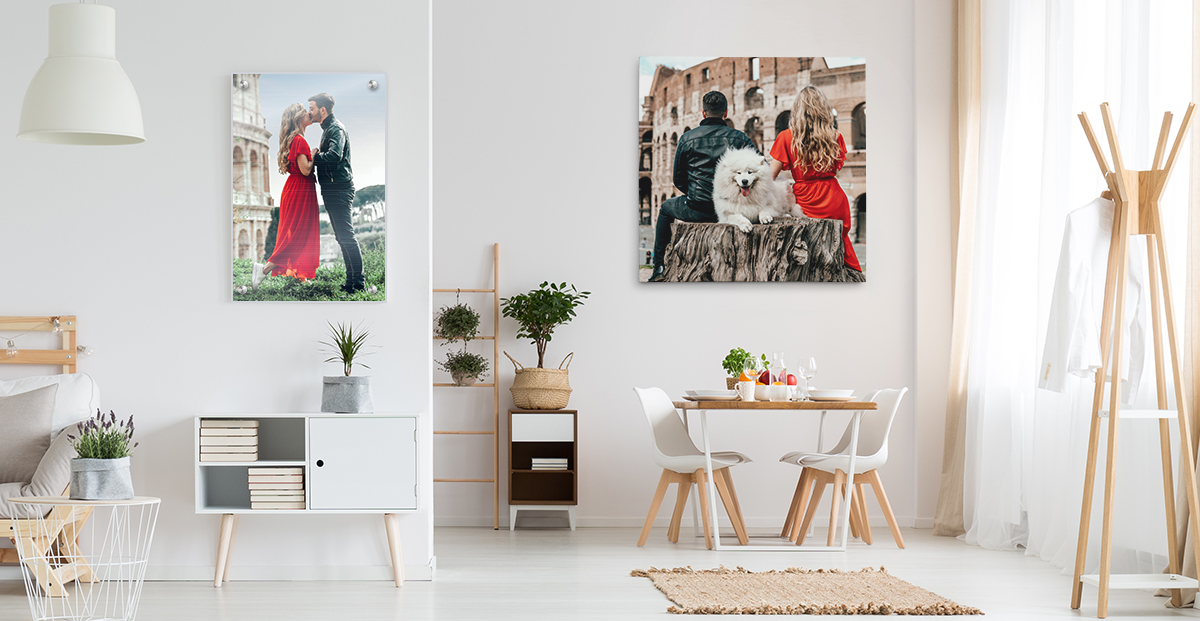 Deciding which medium to print precious photos on can be tough, especially if you are newer to ordering prints online. Not only are there a lot of choices to begin with, it's hard to imagine what the end product will look like up on your wall. With that in mind, we've put together this handy quick-guide of our five most popular products and what they look like.
Canvas Photo Prints
Canvas artwork has been around for ages. It's been used for some of the most well-known paintings you can possibly think of and it's a classic that has endured even when other more modern print mediums have come about. There's a reason why it's still popular amongst people looking to print their family or vacation photos out - canvas photo prints give every picture a lovely, slightly textured look reminiscent of museum gallery artwork. If you're looking for a more traditional look for your printed photos, this is the way to go.
Acrylic Photo Prints

In stark contrast to canvas photo prints, acrylic prints work best in ultra-modern decor where the emphasis is on sleek lines and deep, rich colors. The smoothness of plexiglass is the best choice for images that have a lot of sharp, fine detail you want to show off as it won't get lost like it would with a more textured medium like canvas prints or wood prints. Speaking of wood prints...
Wood Prints

Printing images on wood works really well with photos that can handle having an overlay of natural wood grain show up and still look good. This rustic-chic option brings a lovely country look and is especially good for environments rocking the rustic-chic look. Despite the wood-grain showing up in the photo, the print itself is usually pretty smooth in contrast to the ever-so-slightly bumpy feel of canvas.
Metal Prints

Not quite as smooth as acrylic prints, but more smooth with less visual interruptions than canvas or wood, metal prints are a fun alternative that are often overlooked at first. What we love most about metal prints, aside from the ability to print crisp, brightly colored images, is its ability to look either modern or rustic, depending on the image and your intended use. On top of the flexibility they possess, these easy-to-clean prints are perfect for outdoor use on porches, patios, around the pool and more.
Framed Prints

Last up on our list of most popular products are the traditional framed prints you are probably most familiar with. Printed on regular, high-quality photo paper, these can come in glossy or matte looks with the frame of your choosing. These also fall on the less textured end of the spectrum and work well in showcasing photos with vivid detail. Mixing different sized prints adds definition and visual interest to any home gallery wall and is pretty easy to achieve with the plethora of Pinterest and blog tutorials out there on the web.
Now that you've got an idea for how each of these products will come out looking, the next step is to take some of those photos you've got sitting around on your phone, camera, or computer, and get to creating! Our website offers a design tool that allows you to customize almost every aspect of your photo print project. Happy designing!