Three Great Wedding Canvas Ideas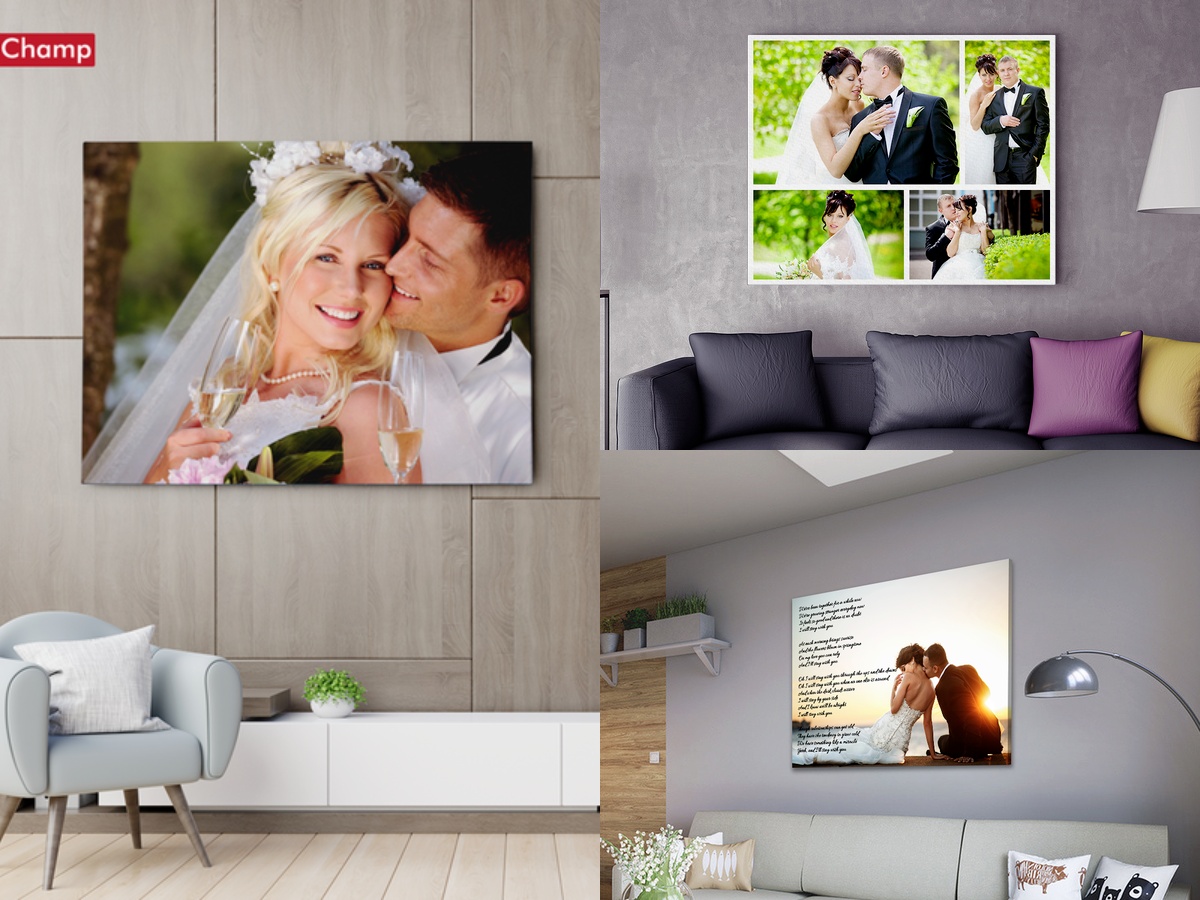 Three Great Wedding Canvas Ideas
Few days in a couple's lives are as memorable as their wedding day. While traditional wedding photographs are a lovely way to remember the emotions and excitement of joining together, let's be honest: how often does that heavy album get pulled out? Or, not a fan of the typical look of most wedding portraits? Create personalized works of art as unique as your love and reflect your individual style. Put your passion on full display with Wedding Canvas Prints!




Wedding Photo Collage
All too often, there are too many extraordinary photos of your wedding celebration to choose just one. A Wedding Canvas Photo Collage gives you the freedom to create your own story on canvas! CanvasChamp's gallery of layout templates lets you choose from two to nine photos for a single canvas print, creating the perfect piece of ready-to-hang wall art. Our easy-to-use design tool guarantees that pictures are placed exactly how you want them. You will see your creativity come alive in front of your eyes! Highlight all your supportive family on a single print. Recreate the ceremony timeline from the wedding march to the garter toss. The choices are as endless as your imagination! Start exploring your options now!


Vows on Canvas
What is more personal than your wedding vows? Maybe you went with traditional vows, or you drafted your own. What you promised in that vital moment is something you will always remember. Vows on Canvas immortalizes your vows in your choice of font, artfully overlaid on your favorite wedding photo. Capture the feeling of the day or reflect your signature style. Whether romantic, modern, or anything in between, you will be able to perfectly capture the sentiments behind your words and display your commitment front and center.
Lyrics on Canvas
That first dance as a married couple is as unique as the two people exchanging vows. Typically, there is a particular song that brings couples back to their early days together or holds special meaning in their lives. Whenever they hear it, they are brought back to those feelings of excitement and passion. By adding the lyrics of your song on a canvas print of your first dance as a married couple, you will always remember exactly how you felt. Lyrics on Canvas marries images and words into a single showpiece of joy and love that you will be proud to show off. 
For Vows on Canvas or Lyrics on Canvas, CanvasChamp's design team skillfully overlays your wording and font choices on your photo. This personal touch ensures that placement enhances rather than detracts from your chosen image. You receive a proof before printing ever begins, so you can make sure what you envision is correctly rendered before the printing process.


Choices as Limitless as your Love
All three of these personalized canvas options allow you to size for the mantel or the bookshelf. Landscape, portrait, panoramic, and square shape options provide ideal backdrops with a perfect fit. Accent your canvas with a frame or border, choose your hanging hardware, and your showpiece will come ready for the wall! 
Whether crafting a wedding canvas for yourself or as a gift, CanvasChamp's design tool makes short and easy work of creating a singularly spectacular masterpiece as unique as the lucky couple! Visit https://www.canvaschamp.com/wedding-canvas-prints right now to get started!