Save-the-Date and Wedding Announcements with Photo Gifts

So, you've said yes to one of the biggest questions in your life, and your head might still be spinning with joy. Now you both get to make your first wedding planning decision:
How will you announce your engagement? While there's nothing wrong with the obligatory engagement ring photo announcement on your favorite social media page, you might choose to deliver this groundbreaking news to your inner circle of loved ones with a bit more flair. A special surprise announcement will be particularly memorable for long-distance family or friends who might not get to share your joy in person. We have gathered some great ideas for making your wedding announcement unforgettable.
Custom Photo Puzzle Announcement
Announcing your engagement via a jigsaw puzzle has several pleasing advantages. The time spent putting the puzzle together helps build suspense and makes for an exciting payoff. The cooperative nature of puzzles means you can announce to a group with each individual feeling special and included, and there will be no competition of who heard the news first. Choose a candid or professional shot of you both together or keep them guessing longer with a solid background and just your wedding date.
Send Magnets Instead of Save-the-Date Cards
If you've already made your engagement announcement, it's time to start thinking about your save-the-date cards and invitations. Save-the-date cards can seem like a pain, but they are especially important for destination or off-the-beaten track weddings. Some save-the-datescan look a bit dull, so why not spice things up by sending a custom photo magnet instead? Your guests will appreciate the practical utility of a photo magnet, and you can feel good knowing that after all the thought you put into designing them, they won't just end up in the trash. Magnets have the benefit of longevity that paper cards can't beat, so you might grace their fridge for years to come.
Beverage Koozies or Coasters to Set the Right Mood
A beverage koozie or photo coaster as your save-the-date card or along with your wedding invitation sets a perfect tone for a casual or unpretentious wedding. Koozies and coasters are an awesome way to reveal an unconventional venue, whether it's a rustic barn wedding, an outdoor picnic wedding, or a modern brewery wedding. These gifts are also great for conveying a lighthearted wedding theme or even to joke about you and your partner's shared love of a particular drink. Save your guests from those dreaded condensation rings, and save your date at the same time!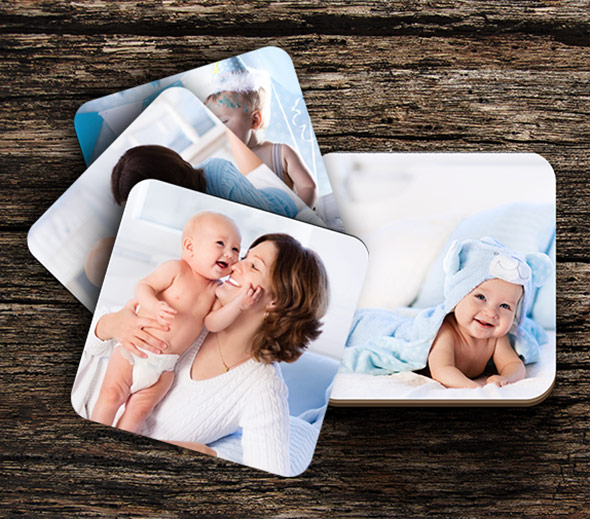 Christmas Ornament Announcements
Save-the-dates are typically sent six months or so ahead of your wedding, so for spring or early summer weddings a Christmas ornament would make festive way to announce your wedding date. A cheery Christmas shot with lyrics from a romantic carol will work well in an ornament format, or just stick with the traditional romantic engagement photo. Your special moment will get to be remembered and treasured over and over again each Christmas.
Everyone wants a one-of-kind wedding. There's no reason your save-the-date and wedding announcements can't be unique as well. Have fun with your plans and, if you need help, contact the friendly staff at CanvasChamp.