Looking For A Christmas Gift That's Creative, Personal, And Useful?

You can't go wrong with a custom photo calendar. The gift recipient will know you wanted to create an item to delight him or her for an entire year.

When they open the gift, be ready for big smiles, laughter and maybe even a tear or two.

Through your gift, you've captured memories of special moments. Perhaps it's a photo of an unforgettable family gathering or a scenic shot of a favorite vacation spot.
Consider your images … and then match the gift to fulfill your dreams.
Provide a year of joyful memories With customized photo calendars, holiday joy continues throughout the year. These gifts enhance the recipient's day – every day.
At CanvasChamp, you can select a calendar for any room, desk, wall, or even fridge. These unique, practical gifts will please just about anyone.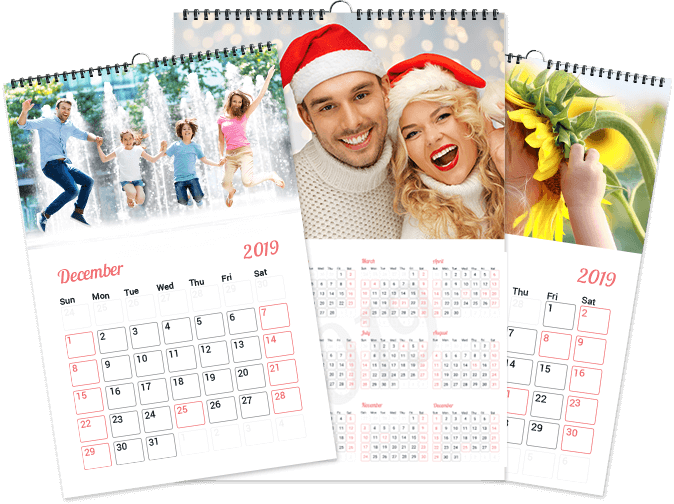 Your gift recipients will send warm thoughts your way each time they enjoy viewing their custom calendar.
Wall Calendars
You can personalize your 2019 photo wall calendar by adding birthdays, anniversaries, and other special days. The recipients will really appreciate the reminders. And what's more, you can add photos to delight your friends and family.
It's easy to upload pictures from your laptop, desktop, Facebook, or Instagram account.
Activate your inner artist. As the calendar creator, you choose the orientation and layout. Dozens of design themes await your consideration. Our high-quality matte paper adds a classic touch to any room.
Select from 11 inches x8 inches or 17 inches x 12 inches.
Desk Calendars
Would a desk calendar be the best gift? If so, look for ways to personalize this essential gift that's perfect for the office or home. Add your own pictures, quotes, and special thoughts. Demonstrate that you understand the recipient's challenges and favorite activities.
Smaller 6- x 4-inch or 4- x 8-inch calendars are perfect for small work areas where desk space is at a premium, and larger 5- x 10-inch calendars are great for display. Our online design wizard offers an array of charming background themes to complement your photos and makes the whole process smooth and easy.
Our desk calendars are printed on high-quality rich-matte paper for a classic look that can be saved for future enjoyment.
Poster Calendars
Maybe that special person in your life likes to see the entire year in one swift glance. Then the poster calendar is for you. Create a personalized poster calendar that will enhance a wall in his or her home or office.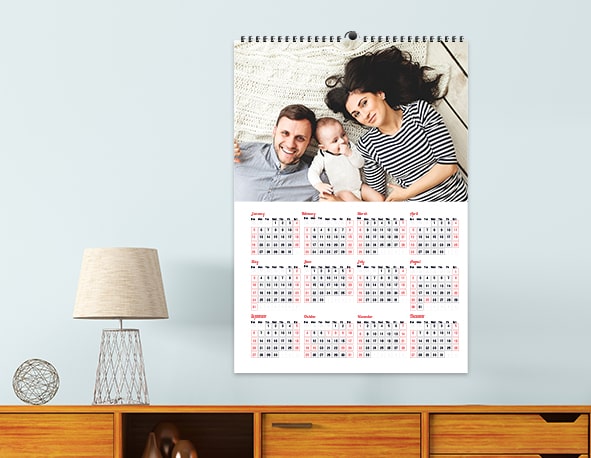 You pick the dimensions that will suit your gift recipient. Would the person on your list prefer the dimensions of 17 x 12 inches or 11 x 8 inches?
Help busy planners who want to quickly check dates throughout the year by reviewing a year-long poster calendar. Or design a cheerful or inspiring calendar to help a child or teen consider yearly goals or events.
Make gift-giving Meaningful and Easy
Help your friends and family get ready for the new year with a custom photo calendar. With our streamlined process, it's easy to design customized calendars that reflect your vision.
You're giving a gift that means something for the special people in your life. And what's more, it's a gift that will be appreciated for the next year – and beyond.