Creating Unique Christmas Ornaments with Photos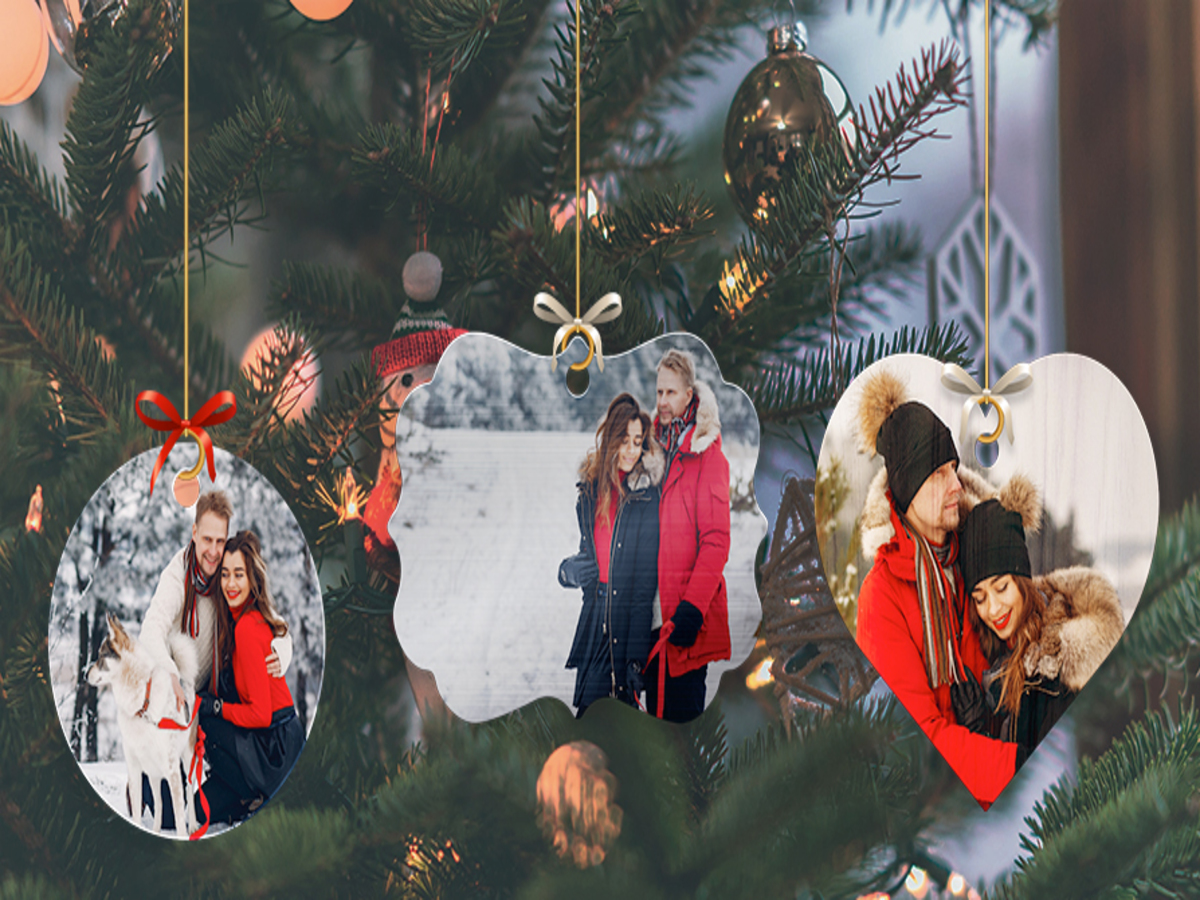 Christmas tree ornaments are classic symbols of the holiday season. Many of us fondly remember the boxes of brightly colored, identical bulbs from our youth. However, today's Christmas trees are another way to put your personal touch on home décor. Now is an excellent time to replace some of your least favorite tree trimmings with beautiful ornaments featuring your favorite people, pets, and places. It is easy, fun, and everyone will need to know how you did it. 
Creating Your Ornaments Is as Easy as 1,2,3
Not a designer? Not a problem! Use the CanvasChamp ornament design tool to whip up a batch of ornaments in a snap!
Step One: Choose your image. Vibrant images with few background distractions work best for photo ornaments, especially if you choose metal or wood as your backing material. Both of these materials will mute your image slightly, and you will want to make sure to see every precious face! Because of their relatively small size, photo ornaments are best when you can enjoy all of an image's detail. 
While a single image always looks fantastic, do not rule out layouts of up to four photos on a single ornament. Multiple photo layouts also allow you to carve out a space for text or clip art. Add names and the year; because everyone will be enjoying these miniature artworks for years to come! 
Step Two: Choose your material. Our photo ornaments can be printed on metal, wood, or acrylic. Metal is a durable option that gives a contemporary flair to your tree. The natural grain of a wood ornament subtly peeks through your image, lending a rustic air that goes great with classics like strung popcorn and cranberry garland. Light-bending acrylic catches and reflects the light off your pictures, giving them an extra-special pop of color!
Step Three: Choose your shape. This may sound like a simple choice, but there are quite a few to choose from! In addition to the classic circles, squares, and rectangles, choose festive hearts for loved ones, stockings or bells to highlight photos of Christmases past, or bones for your puppy parade. There is even a gorgeous jeweled snowflake option that offsets your central image with wirework!
That's all there is to it! 
Personalized Ornaments are Multitaskers
You might be wondering if you need that many new ornaments. But keep in mind that while photo ornaments bring life and brilliance to your tree, they are not just single-use wonders. 
Are you hosting a family dinner? Use a personalized ornament featuring every member of the family as a place card at the table. No more fighting over who gets to sit next to Aunt Sue! Another option is to create a stunning centerpiece by hanging your photo ornaments on stands of varying heights. You may just be starting a new holiday tradition!
Or replace your gift tags with an ornament featuring the gift's recipient! Even the smaller members of your family will appreciate their very own ornaments! They will love pulling out their unique keepsakes to hang on the tree! It is also a great start to their holiday decorating for their first Christmases on their own.
And, of course, Christmas tree ornaments make lovely gifts by themselves! A set featuring each child will be a treasured keepsake for Grandma and Grandpa. Begin a tradition by highlighting each year's most memorable events. Or get the newlyweds' tree started with a set of their favorite wedding photos. 
With CanvasChamp's easy-to-use ornament tool, creating unique photo ornaments featuring your entire family is quick and easy. And with the busy holiday season fast approaching, time is a precious commodity. Visit https://www.canvaschamp.com/photo-ornaments to start creating your custom Christmas tree ornaments today!