Celebrate Easter with Canvas Ideas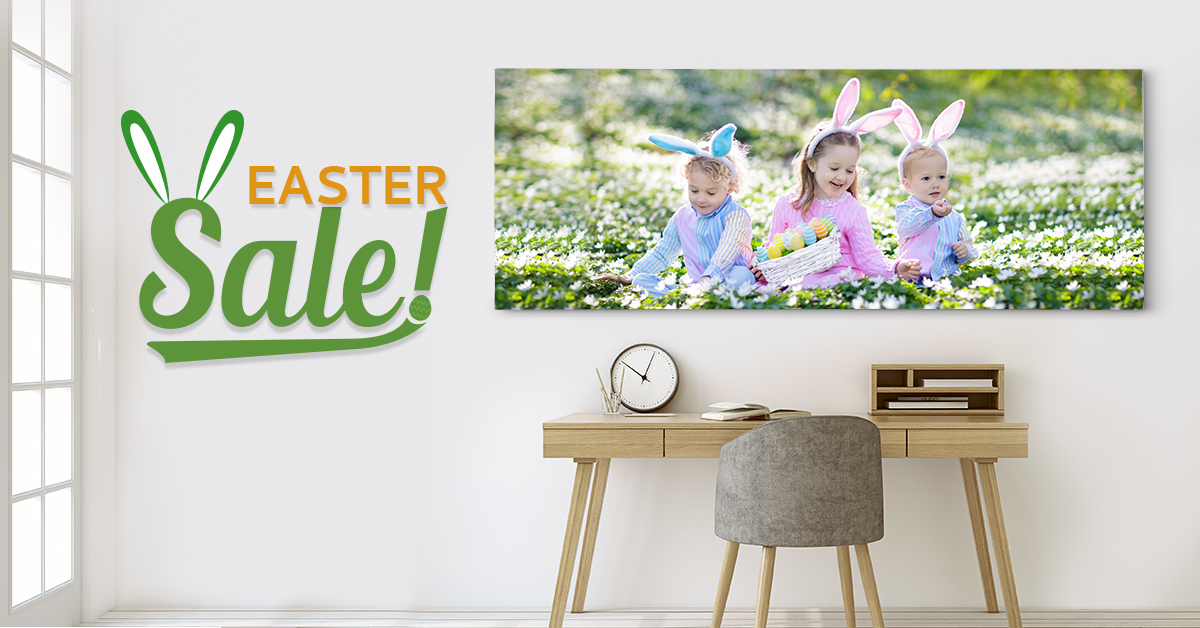 We love Easter…it means the beginning of Spring (to us). It's such a happy, bright holiday, and it also says that Cadbury Creme Eggs are out in stores and we are trying to avoid buying them by the dozens! Also, there is so much fun Easter inspiration this time of year that we had to round up some of the best Easter Canvas Ideas to showcase to you here.


1. Easter Bunny Canvas
With Easter comes our favorite Easter bunny! And frankly to say we have a thing for rabbits and so we had to add this to our collection of best photo product gifts for Easter! Hence, we came up with a bunny canvas prints.

2. Hippity Hoppity Canvas
We know that YOU know that anything today can be designed on a canvas. So we came with a way to write an Easter custom text for custom canvas prints. Make a beautiful all black canvas with chalkboard font as a message, "Hippity hoppity; Easter is on its way!". We guarantee everyone is going to love that in your room's corner.

3. Cartoon Bunny Canvas
A gorgeous canvas featuring a bunny rabbit makes a stunning present for anyone who loves animals. The animal can be hand-drawn in a cartoon style with a big friendly smiley face and a cute little pink nose. The canvas background can be made sky blue with dark blue dots on it to showcase delightful spring weather. A cute canvas can never go wrong to bring happiness like that!


4. Funny Egg Roll Moments
Yup, we love that game, and we know you do too! Capture some funny egg cracks at the egg roll event and share it as a canvas to the person for some laughter and joy! You can take as many funny moments as you want and capture to create canvas prints for each. We have the best cheap canvas prints at Canvaschamp to make it work for you to share joy and love across other people.

5. Decorated Egg on a Canvas
We know you have amazing creativity. And you are going to showcase it while decorating eggs; we know that too. Nothing feels prouder than making the best egg paint on a boiled egg. So before you go on cracking that egg to gobble it down, why not take a picture of it and make it into an 8X8 canvas print to remember how beautiful you egg looked as it was hand-painted by you?

6. DIY Canvas Coloring Prints
We all painting our own canvas prints. It makes us feel like an artist, and that makes the canvas special as well. Find an uncolored bunny pic and edit it with your name, your friend's, siblings or any kid's name to make a self-coloring canvas print. It would be delightful!

7. Peeps and Ducklings Canvas
This is going to be the most cutest canvas in the world! Take pictures of the baskets you decorated or your parent's decorated with full of colorful chicks and ducklings. Make it a canvas print full of happiness overload and pureness that every time you see that canvas, your day becomes ten times better!

8. Winning an Egg Hunt
That glorious moment when you find out that you have ended up collecting the most and the best decorative eggs than others are the best feeling to end an egg hunt with! Get a picture of you winning a treasure hunt or whoever the winner is, and print it on a canvas to remember that excitement and exuberance of an Easter egg hunt.

Easter is meant to make everyone happy no matter what age somebody is. Since it is the time of celebrating Jesus resurrection and welcoming the Spring, your memories and spirits should be festive no less for it. Visit Canvaschamp for more Easter personalized gifting ideas to spread happiness to all your special and dear ones.