5 Summer Photography Tips to Solve Biggest Harsh Light Problems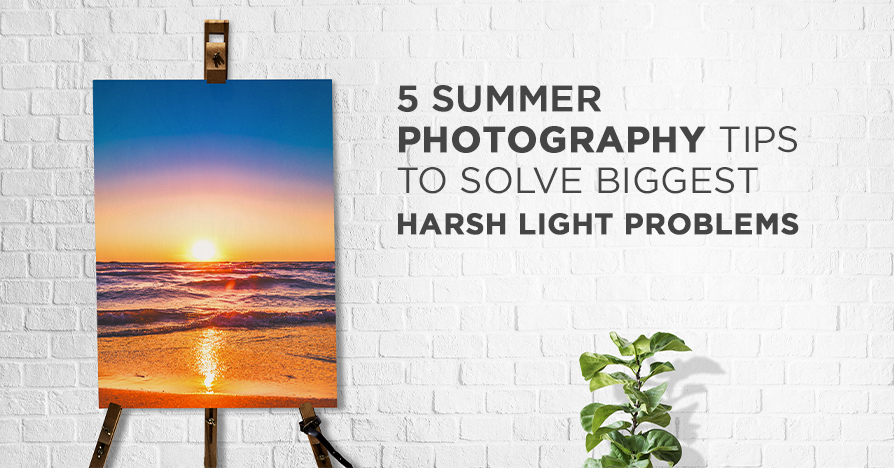 While some might consider summer as the best time of a year to take photographs, the majority doesn't. The reason behind is quite obvious. The high contrast, black shadows, harsh light, and hazy weather bring it to 'not so preferred' list of photographers.
If you'll interview a photographer about his/her favorite season to take clicks, you have chances that not a single one of them will mention summer. In fact, you have more chances of autumn topping the list due to its stormy light and fiery colors.
But Wait!!
Well, things are never all doom or gloom. There's always a minute ray which builds the difference. It's just that you need to follow some master steps.
So whether you want to use the photographs for personal digital collection, to build your portfolio as a photographer, or want to make canvas prints from photos for home décor or exhibition purpose. These tips will undoubtedly help you.
Five tips to take perfect photographs during summer
1.Get yourself an alarm clock
Early morning (Sunrise) shots are best during summers. Though you might have to sacrifice your pleasant night sleep for that. But believe me, the result is worth it. Plan your location a day or two in advance. As a preferred location, you can consider visiting an old favorite. However, a location near to some water body could be much better, as the water reflects the colors of the sky. Try looking for a lake, reservoir or loch and arrive at least half an hour before sunrise to click a perfect picture.
2. Click Bold
Let us suppose some day you get late, and couldn't picture the sunrise. Don't be depressed. By 8 am during summers, the sun is on its way to touch the sky. You'll get the same scene till almost 5 pm. During the duration, the sun is harsh and intense while the shadows are dense and short. The scenario is ideal to click buildings. It's noticed that during summer, bridges, buildings, and other man-made structures look amazing when clicked against deep blue polarizer sky.
3. Use a polarizer
 Taking the clue from the previous point, we would like to share that a polarizer can boost the quality of your picture. Accompanied with emphasizing clouds and deep blue sky it can indeed be very helpful. To add the best effect to your photograph keep the sun on one side of the camera. Keep the lens axis and reflective surface at an angle of 30° to get rid of reflections. You also need to keep an eye on shutter speeds as the polarizers lose two stops of light. During a sunny day, you need to count it to 1/30 sec at f/11 at ISO 100 or use ISO to 200 or 400 if you can use faster shutter speed.
4. Prefer shooting in shade
While the light outside could be unflattering and harsh, clicking in tree or building shade can add a different essence to your photographs. While you will find softer light here, even the contrast and shadows are low. The arena can give you best portraits. Try shooting close-ups and details. However, if you are in an area where shade isn't available, you can hold something above the head of your subject. You can try using a brolly, sheet of card or a defusing screen to have best results. You might have noticed such portraits being used for home décor through canvas prints.
5.Experiment with Infrared
Summer undoubtedly is the best season for Infrared photography. To have best photographs, you can try taking pictures of plant life and green foliage. The reason behind suggesting them is that they commendably reflect infrared. To accompany it you can find the essence of fluffy clouds and blue sky adding the much-needed essence of serenity. To click such pictures you can visit any woodland, garden, and riverside walk. However, in case you don't have an infrared-modified digital camera, prefer using a transmitting filter with your lens.
Conclusion
A photographer can adorn his/her photographs with a power to speak. The season can give you numerous splendid photographs, it's just that you need to take care of certain points. Besides the above-mentioned points, you can also try clicking flowers/greenery, silhouettes, evening clicks, the night life etc. So, take some gorgeous photographs this summer and add them to your profile through a digital version or photo canvas prints.
In fact, the photographs can be of great use to mount on your room walls or for exhibition purpose (if you are or plan to go professional) through canvas prints. In last few years, the medium is being preferred by many. However, the only thing you need to take care before opting for photo canvas prints is to look for some good service provider.
Whether you have been in the industry for ages or just starting up as a pro, Canvas Champ never compromises on quality or cost.  Getting started is simple; sign up as a professional photographer, and start creating your masterpiece today!