30 Photo Gift Ideas For Mother's Day in 2021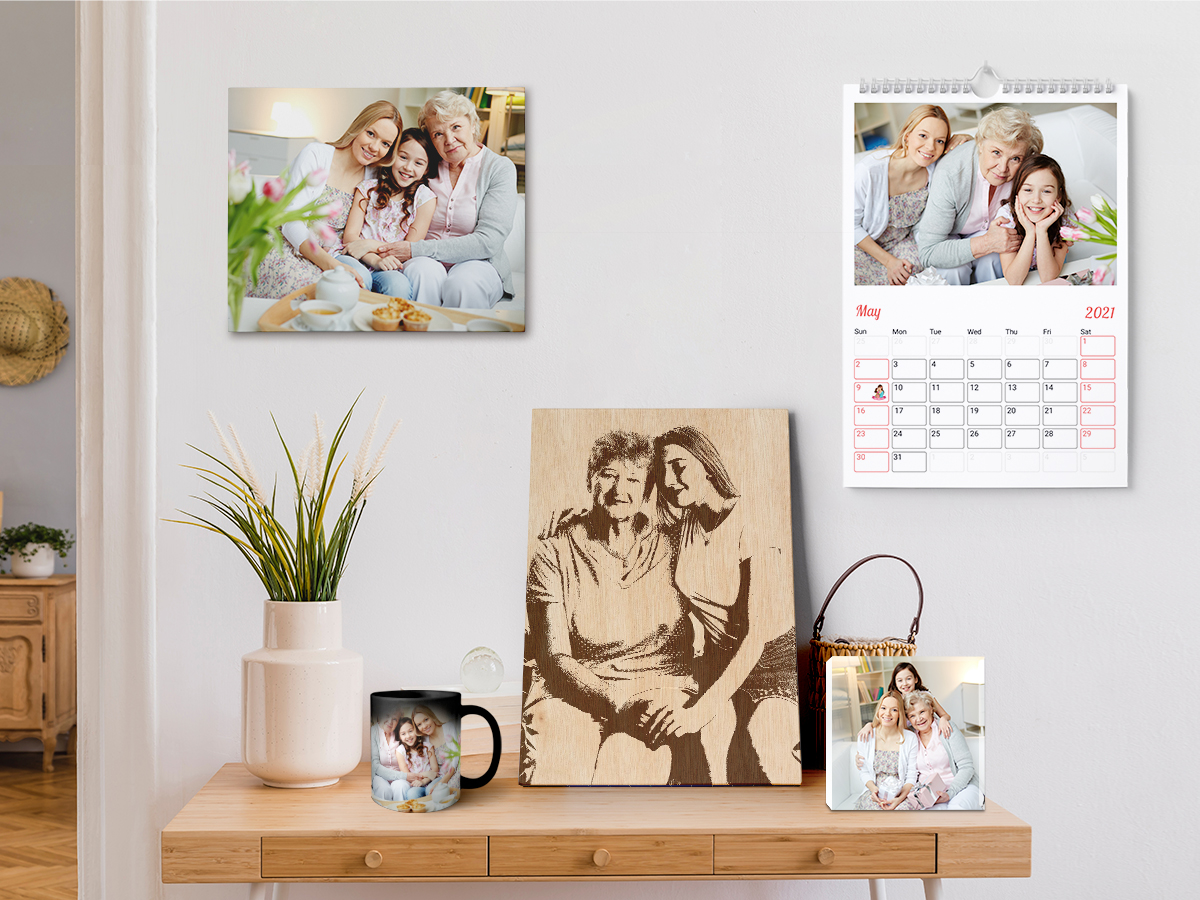 Our mothers deserve the very best. We owe them so much. No one loves us as deeply and for as long as those precious souls who gave us life and then had the patience to mold us into who we are today. So, this Mother's Day, why not give her the kind of gift she has loved since you were little – a personalized gift made by you. We've compiled an extensive list of photo gifts you can design and deliver with a kiss to that special woman in your life.
Canvas Prints: The Gold Standard of photo gifts, custom canvas prints have the timeless elegance of artwork with the sentimental appeal of that card covered in glitter you gave her when you were five.
Canvas Wall Display: Remind mom of the beautiful evolution of your family through the years or surprise her with a childhood photo side-by-side next to a recreated shot with you as an adult.
Split Photo Canvas Prints: Families are more than the sum of their individual parts. Celebrate your mother's hard work with a beautiful photo of your family split into the number of family members (up to nine panels possible).
Panoramic Canvas Prints: Not every photo gift has to be a family portrait! Try a colorful professional snapshot of her favorite vacation spot.
Mini Canvas Prints: Create a hanging scrapbook page with these miniature canvases.
Framed Canvas: Our framed canvases are effortlessly sophisticated. Just like mom!
Metal Prints: A mother's love lasts a lifetime. So do metal prints created with white matte aluminum.
Engraved Photos On Wood: Take her on a trip down memory lane with our minimal engraved wood prints. Guaranteed to turn a special treasured photo into a timeless heirloom.
Photo Mugs: The secret of motherhood is this: Mothers run on 100 percent unfiltered caffeine to keep up with everything. An especially good gift for the new mother just learning the ropes!
Magic Mugs: Motherhood can be full of surprises. At least the photo hidden behind the mug's color-changing coating is a pleasant one this time.
Photo Calendars: Your mother deserves to be reminded of how much you love her more than just once a year! Present her with a personalized photo calendar so she can feel special all year long!
Custom Photo Blankets: If your mom was the one to make your first baby blanket, make sure to return the favor. No sewing required!
Photo Umbrella: If you are her sunshine, that's only because she always kept the storm clouds away. You might not be able to do the same for her, but you can at least make her a special custom-printed umbrella.
Photo Puzzles: Photo puzzles are as good for the heart as they are for the mind. The perfect gift for mothers with limited mobility who still like to stay active.
Photo Ornaments: She made every Christmas magical when you were younger. This Mother's Day, add a little magic to hers!
Cutting Boards: Everything tastes better when our mothers make it for us. Bonus points: Taking a knife to your photo will give her a good outlet when you make her mad! Just kidding.
Acrylic Photo Blocks: Heading back to work after a baby is born can be a heartbreaking challenge for a new mother. Remind her of what she's working for with these durable and stylish Photo Blocks for her desk.
Personalized Heart-Shaped Moon Lamp: Our mothers helped us discover our true selves and shine in the best way we can. Give some of that light back to her with these adorable 3D night lights.
Custom Photo Bookmarks: Help her unwind with a good book and a personalized bookmark to match!
Canvas Photo Collage: Behind every happy family is an incredibly dedicated mother. Create a tribute to this hard-working woman with all the best photos of her.
Photo Moon Lamp: Nothing says that a mother's love is intergalactic like a custom photo moon lamp. Get a picture of you and her etched for eternity with sweet memories flowing at night before you go to bed with a photo moon lamp. 
Photo Love Plaques: No matter if the romantic quotes are for couples, they seem perfect to fit with a mother's love. Perfect for a mother's day gift in 2021 is a Photo Love plaque where you lovingly tell your mom how much she means to you. 
Photo Mousepad: If your mom is a workaholic, and puts in many work hours in front of a laptop or desktop, perhaps the best mother's day gift would be a photo mousepad. Pick a photo that you both like and swish swash; you have a custom photo mousepad. 
Photo 3D Lamp: Want to take custom photo gifting to the next level for your mom? Pick up a Photo 3D Lamp and get a line drawing or an engraved photo to show your mom just how important she is in your life. 
Custom Playing Cards: We've all played Rummy or Poker at some point in time. And if your mom has a penchant for the game, it's time to give her a signature pile of custom playing cards. Take this chance to bring out the Phil Ivey in her with custom playing cards as a gift for mother's day 2021.
Photo Placemats: Some events or some people are forever essential for us. Though it's up to you to decide what works better, you can beat the monotony of off-the-rack dining room placemats. As a gift for mother's day 2021, getting photo placemats might give your home that touch of being tailor-made. 
Quotes on Canvas: Ever gone to a cafe and found a great quote hanging on the wall? Probably yes. Well, you can use the same example and turn the words of wisdom from your mom into a timeless piece of art. Getting quotes on canvas from your mom will make her feel special and continue to impart knowledge to you for a very long time—all this while spicing up the style factor of your room. 
Photo Magnets: A no-brainer! We all have to-do lists and chores for the day. Instead of sticking them under boring fruit-shaped magnets, you can bring this little thing to life by putting a loving memory of your mom into it. 
Hexagon Canvas Prints: A mother's love is never simple. It's tough, caring, and many other things, just like a Hexagon canvas print. While it is yet another canvas print example, it is a lot more than that with its hexagon shape and hence the versatility it brings with itself. 
Photo Pillows: An oldie but goodie. Bring more flavor into a room just like our moms bring more flavor to our life with a custom photo pillow. Put up a single picture on all of them or print out all members to complete the family portrait. The possibilities are endless, just like our mom's love for us!
The best gift you can give your mom is yourself. You can put a little of yourself into all these custom photo ideas for Mother's Day … and more! Get started by visiting www.canvaschamp.com.