5% off on Your Order
Like us on Facebook. Get 5% off on Your Order. This offer ends soon, so don't delay. Once you activate it, you can use the coupon now on CanvasChamp.com.
The best and the cheapest decor prints online. Lowest Price GUARANTEED
Call Us Today! 800-993-0992
Special Offer

FLAT 10% OFF

- Starting from today Offer valid till 31st May 2014 - Use Promo Code: supersaver10
Flowers Canvas Prints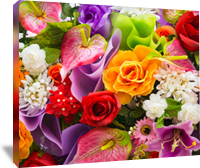 Diamonds are girl's best friends but they are very much expensive as well. For every occasion it might not be possible for all of us to give diamonds that's why we use Flowers to express our feelings to our loved ones. It may come to your notice that the Greeting card designs are mostly having flowers to express your happiness. They are not that expensive but they do describe what you feel for your loved ones. Flowers may not stay fresh all the time so Canvas champs feels proud to introduce the flower category which feels live all the time and gives you a good ambience to view at home or office.
Copyright © 2014 CanvasChamp.com. All rights reserved | eCommerce Solution by